News
http://billingsgazette.com/news/local/billings-dive-team-sees-hurricane-harvey-s-damage-up-close/article_8e7535f7-0adc-5e1c-a7ba-8d42cabc5614.htmlhttp://www.kulr8.com/story/36279164/billings-us-water-rescue-dive-team-in-vidor-texas
Though the high floodwaters are starting to recede, they still cover parts of Houston, the head of a Billings-based water rescue team said Friday.
"One of the roads they had us checking yesterday was 16-feet deep," Shane Weinreis, president of the U.S. Water Rescue Dive Team, said Friday morning.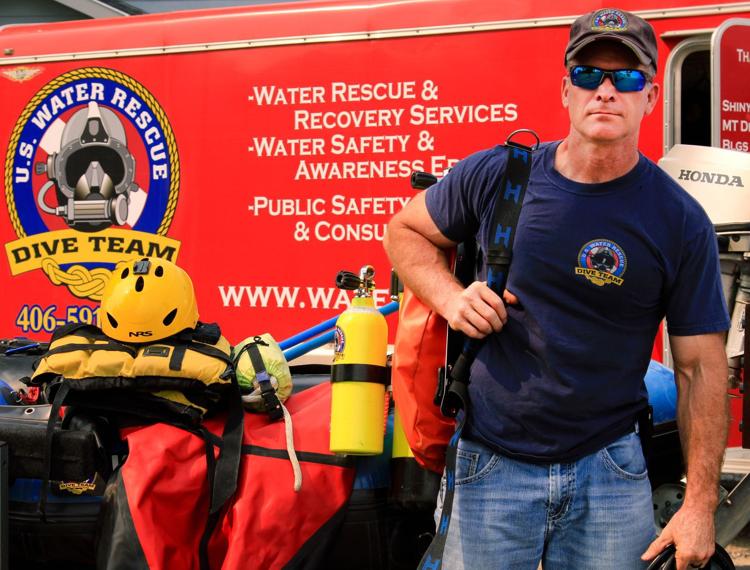 Weinreis and two members of the nonprofit organization left for Houston on Tuesday to help where they could. Another team member, who works for the Klein Volunteer Fire Department in the Houston area, told Weinreis that the additional help would be appreciated.
They arrived Wednesday and initially, Weinreis and his crew were designated by the Houston Fire Department and FEMA as a special response team for dive emergencies, in case other rescuers got trapped underwater during a rescue.
"We were assigned as rescuers for that specific type of scenario since there were not any other dive rescue assets available," Weinreis said.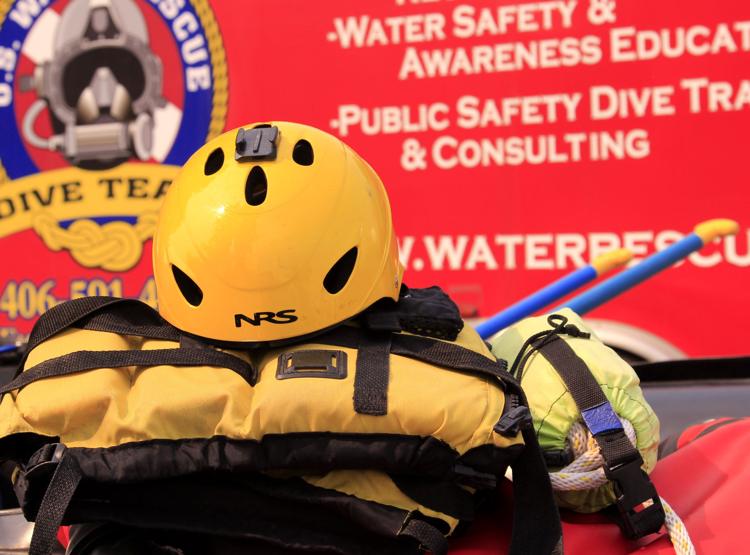 On Thursday, the team went out with the Texas Ranger Division of the Texas Department of Public Safety to go into neighborhoods and check for possibly stranded people. The Texas Rangers have military vehicles equipped to drive through relatively deep water, Weinreis said, but they didn't have the specialized equipment, such as dry suits, to be able to wade into contaminated water.
"There were a couple of houses where there were reports of elderly folks who may not have gotten out," he said. "They had us go in and search the houses."
To check for the residents, the team broke into the homes. The residents had already left the houses, which were filled with debris, Weinreis said.
On the way back, the rescuers checked in on an apartment complex where 30 residents remained. Offered the chance to leave the complex, the residents declined, Weinreis said, deciding to wait it out there.
In some areas of town where they traveled, the water had receded, and from the outside the buildings looked deceptively unscathed, aside from the visible waterlines that marked walls at 6 or 8 feet. The damage remains inside.
"Some people have already started taking everything out of the buildings to see what they can salvage," Weinreis said.
With rescue operations winding down on Friday in Houston, he and his team were headed to Beaumont, 100 miles east of Houston to see if help was needed there.
Asked his impression of the people he'd met, Weinreis said his overall feeling was "they're very grateful there are so many people that showed up to help.
"They're discouraged over all they've lost, but they're also feeling blessed that it's just material things they lost," he said. "They've got their family and their faith and things are good because they're not hurt."

Shane Weinreis and the US Billings Water rescue dive team are on their fourth day in Texas. We continue to follow their rescue efforts as they are the only dive team in the area. Since the Billings US water rescue dive team left for Texas, we have followed them on their journey since day one. The team left Beaumont earlier this morning and are currently in Vidor, Texas. Water is still rising and this video perfectly captures their perseverance and motivation to get through the flood. They are currently based in Vidor's Emergency Operations Center until further notice.
http://www.ksbw.com/article/search-party-being-organized-for-the-greenfield-man-thrown-into-the-salinas-river-by-a-drunk-driver/9217551 Search Party being organized for the Greenfield man thrown into the Salinas River by a drunk driver
Gonzales —
The family of a missing Greenfield are reaching both far and near for help in finding Julian Lopez.
"We want closure and we need help," said Lopez'snephew Rene Hernandez.
Backin February Hernandez, his brother and Lopez went to a Greenfield bridge to seethe flood swollen Salinas river. As the three watched the murky waters analleged drunk driver plowed through a barricade, hit the three men knockingthem into the raging river.
The nephews made it out, but Lopez didn't.
"The day that accident happened the river was in some parts wider than a milenow today the river is less than 20 feet wide in some spots we have a lot ofarea we need to cover and we don't have enough people to check everywhere,"said Hernandez.
Wednesday the family brought in a special search team from Montana to help lookfor Lopez's body.
"They brought a cadaver dog that's specialized to be on the river and they'researching the river bed doing the best they can for us they've done tremendousjob covered almost 20 miles in two days on the river," said Hernandez.
But the search team leaves Sunday so the family is now organizing a searchparty to look for Lopez on the weekends beginning this Saturday.
They've setup a facebook page "Help bring Julian home"hoping to attract an army of volunteers to comb the Salinas river bed.
There's a lot of ground to cover and it won't be easy.
"There's trees and branches and bamboo. Some spots a little bit ofquicksand but we have to keep looking and we're going to keep looking until wefind him hopefully we get closure soon," said Hernandez.
The family of Julian Lopez has also set up a Gofundme account called "DUIvictims support fund" to help with medical bills and search efforts.
So far more than $22,000 have been raised.
http://billingsgazette.com/news/local/crews-continue-search-for-missing-girl-near-huntley-diversion-dam/article_dab1203d-902e-5392-9d6b-6cb6fa81214d.html
Crews continue search for missing girl near Huntley Diversion Dam after overnight break

Emergency crews continued the search Sunday for a 12-year-old girl who went missing while swimming near the Huntley Diversion Dam.

Yellowstone County Sheriff Mike Linder said every effort is being made to locate the girl but the search will likely turn into a body recovery.

The girl has been missing since about 6 p.m. Saturday. She was swimming with two other people at the head gate and failed to emerge from one of the tunnels that drains into Huntley Project Irrigation District's canal.

Deputies, rural fire personnel and citizens searched the canal "well past dark" Saturday night with U.S. Water Rescue divers and an aircraft aiding in efforts, Linder said.

Linder said crews resumed combing the area before 7 a.m. Sunday with the search concentrated on the stretch of canal between the Huntley Diversion Dam and Ballantine where equipment in the canal makes it unlikely anything could float past. However, a small plane followed the canal as far as Pompeys Pillar looking for any sign of the missing swimmer.

Irrigation district employees lowered the level of the canal several feet on Saturday to assist divers at the scene but pressure was raised on Sunday to prevent the canal's banks from collapsing. The canal's water is murky and divers are dealing with low visibility.

Linder said dogs were also brought in and deputies on foot searched every accessible area along the targeted stretch of canal. The dogs hit on a couple places along the canal but the leads proved to be dead ends and searchers can't be sure the girl was ever at those points.

Linder said the divers and dogs have done all they can. Crews remained on scene Sunday night and will focus their attention on a cleanup area near Ballantine with equipment that strains debris from the canal. An airplane could also make another pass through the area on Monday if weather permits.
http://billingsgazette.com/news/local/billings-officers-talk-woman-down-from-bridge/article_97a536cc-ddde-5ac1-aa91-93ff93678cd4.html
Billings officers talk woman down from bridge

By SUSAN OLP solp@billingsgazette.com Feb 27, 2016
A woman who threatened to jump off a railroad bridge over the Yellowstone River between Billings and Lockwood on Saturday was coaxed away from the ledge by a trio of law enforcement officers.

The three-hour drama began just before 1 p.m., when a group of people who were fishing from shore noticed the young woman walking along the railroad trestle, said Lt. Mark Cady of the Billings Police Department. She sat down on a ledge below the main deck, by the second piling of the bridge.

The onlookers called 911. Officers from both the BPD and the Yellowstone County Sheriff's Office responded to the scene, along with the Billings Fire Department and an AMR ambulance.

Sheriff's deputy Aaron Harris and police officer Phillip Tanis lay on their stomachs for much of the time, speaking with the distraught woman. They were aided by police officer Del Kuntz, a crisis negotiator, who stood nearby, and a diver with the U.S. Water Rescue who stood on the other side of a girder.

In the meantime, a second diver, also with U.S. Rescue, a group of special service officers attached to the sheriff's office, waited directly below the bridge, next to a raft in the water, as a precaution.

At one point, officers brought the woman a bag of food and a drink. Most of the time she leaned against a girder, legs pulled up to her chest.

Though temperatures were in the 60s, a steady wind blew. Dark clouds amassed over the area and large drops of rain, mixed with the wind and the dust, fell for about 15 minutes.

Vehicles whizzed by on Highway 87, which parallels the railroad bridge, oblivious to the drama that was unfolding nearby. Officers kept people away from the river's shore, so as not to further agitate the woman, and a nearby bicycle path was blocked off.

Finally, around 3:30, the officers dropped a strap down to the woman and encouraged her to grab it. She refused at first, but she eventually heeded their words, pulled on the strap and stood up.

The officers helped her back up to the main level of the tracks and covered her with a blanket. Then they helped her walk down a hill to a waiting patrol car.

Yellowstone County Sheriff Mike Linder, who also was on scene, praised the teamwork that brought the incident to a good ending.

"The negotiators did an awesome job," Linder said. "they're the ones who convinced her to come down."

Jim Lewis, chief information officer for Montana Rail Link, said as soon as MRL got word about the woman on the bridge, at 12:55, they began holding up traffic. Altogether three trains were delayed, but by late afternoon, traffic was back to normal.
http://billingsgazette.com/news/local/coroner-identifies-teenager-who-drowned-at-lake-elmo/article_2b026c19-08ee-5032-a0ff-26110735c576.html
The Yellowstone County Coroner's Office has identified a 13-year-old Billings boy who drowned at Lake Elmo State Park on Thursday as Christian James Wilson-Gartside.
Deputy coroner Cliff Mahoney said that Christian died of freshwater drowning.
A memorial and fundraising page set up with the website gofundme.com said that Christian recently finished seventh grade at Castle Rock Middle School.
"Christian was a fun, witty boy who loved the outdoors and flying airplanes with his papa Clay," the page said. "He enjoyed his time with his friends roller skating and playing baseball. He had the most unconditional love for all of his family."
Emergency crews were called out to Lake Elmo on Thursday afternoon after Christian and another boy were swimming at the lake. The other boy told police that he noticed his friend struggling and tried to help but couldn't and swam to shore to get help.
Search and rescue crews found Wilson-Gartside body after about an hour of searching.
USWRDT made the recovery within about 15 minutes of arrival. We pray for the family and Christian's friends.
http://www.11alive.com/story/news/local/buford/2015/02/09/kelly-nash-missing/23134851/
U.S. Water Rescue Dive Team traveled to Georgia to conduct the Underwater Investigation involving Kelly Nash. Very successful operation. Much support from the family and local law enforcement. Very sad story. We pray for healing for the family.
4KXLF.com Butte, MT
Jul 15, 2013 10:16 PM by Jason Laird - MTN News
Drownings prompt warnings from officials
With the recent rash of drownings in Montana, officials and experts are stressing water safety.
Over the weekend, two people, an adult and a toddler drowned in separate incidents on the Stillwater River.
Rivers like the Stillwater and others under the Big Sky may look deceivingly harmless to the naked eye, but can pose serious dangers.
"So right in this area we have several hazards here," said Stillwater Co. Sheriff Clifford Brophy. "If people were to go our with guides or trained professionals, they can learn those few key points there, that will help them minimize the danger out there."
Even a shallow river like the Stillwater can produce hundreds of pounds of force.
"Just this water appears to be shallow enough people can stand up in it," said Brophy. "In fact, if you tried to, there's a good chance you can get your foot caught in that and literally drown in just a few feet of water."
So if you do find yourself in a bad situation, what do you do?
Shane Weinreis, a member of the U.S. Water Rescue Dive Team offers suggestions.
"Reach, throw, row, don't go," Weinreis said. "The first thing a person from shore would want to do is be able to reach something to the victim, like a oar, or a branch. The next thing would be throw, they have something buoyant, something that floats, if they can throw it to the victim, so they can grab onto that and help support them. And lastly, if there's a boat available then they'd want to use the boat." The rescue team also tells us not to panic, float on your back, and angle your body toward the shore.
Officials also urge anyone playing on Montana's waterways have personal floatation device or lifejacket available.
"Most crucial point, of course, is fit. If the jacket is too small they're not going to have freedom of movement or the ability to breathe like they would like to," said Oren Harper, another member of the U.S. Water Rescue Dive Team.
Explaining how important it is to have proper fit for children's lifejackets, he continued:
"And if it's too big, it will just not going to do any good," Harper said. "It's going to come right off of them if something should happen. Best thing to do is just grab the life vest, and just pull up on it. You should be able to pick them up off of their feet. If the vest comes off the top, needless to say its too big. http://www.kxlf.com/news/drownings-prompt-warnings-from-officials/

Is There a Future for Rebreathers in Public Safety Diving?
Posted on: April 22, 2013 by ERDI (Emergency Response Diving International). Comment from USWRDT Dive Officer Shane Weinreis Click to Read the article: https://www.tdisdi.com/is-there-a-future-for-rebreathers-in-public-safety-diving/
Kulr 8 News by Katie Owen talks about U.S. Water Rescue Dive Team / Francisco Soto / Ice Training https://www.youtube.com/watch?v=EhRDbO7xWIQ
Submitted by At the Ready Magazine (A magazine for First Responders) on Thu, 07/25/2013 - 00:04 Editor's Note: Many times responders are considered only those who go in and mitigate the emergency incident. Rarely is thought given to those who are called after the initial response to bring closure to the families of victims. The US Water Rescue Dive Team is an all-volunteer organization of highly specialized divers who are called to respond to water rescue incidents in support of agencies who do not have an organic team. Equally often, however, they receive calls when they are the families' (or agency's) last resort, when the search has been called off. Many locations across the US do not have established water rescue/recovery teams, or the conditions are outside of the local team's expertise. Typically this would be due to the depth, cold, search area, or bottom composition. To read full article from Shane Weinreis (submitted by At the Ready Magazine) click here: http://www.atthereadymag.com/site/uswaterrescuediveteam
July 15, 2013 12:50 pm • Gazette Staff16 Lynn Wood Okken, 54, has been identified as the man whose body was recovered from Lake Elmo on Saturday by Yellowstone County Sheriff's Office Lt. Bill Jones, the county coroner. Jones said that Okken died of freshwater drowning. Rescue divers pulled Okken's body from the lake at about 3 p.m. on Saturday and the Billings Police Department continues to investigate. Emergency crews were called to Lake Elmo State Park shortly before 9 a.m. that day after witnesses reported that a small raft capsized and they could not find the man they saw paddling it in the water. A team from U.S. Water Rescue eventually found Okken's body and removed it from the lake. Jones said it wasn't clear why Okken wasn't able to escape after the raft capsized. Read more: http://billingsgazette.com/news/local/coroner-identifies-billings-man-who-drowned-in-lake-elmo-on/article_7ab89d86-e39c-5ea4-9421-d17fadac2ca8.html#ixzz2snNByMsZ
Water Rescue Teams Posted by Kulr 8: May 17, 2013 4:36 PM MDT Updated: Jun 07, 2013 6:10 PM MDT Rescuers made several river rescues this week, including two teenagers who crashed their car into Yellowstone River and one man had to be saved in a canal. Thanks to water rescuers, no one was seriously injured.
It's a job rescuers say brings an adrenaline rush and is very rewarding.
"We're called the U.S. Water Rescue because we actually go beyond the borders of Montana," said Francisco Soto, a member of the U.S. Water Rescue Dive Team. The U.S. Water Rescue Dive Team is a private company that the Sheriff and City Police reach out to in case of a water emergency. "Not all of us get to be police officers. Not all of us get to be firefighters. This is a way for us to be able to do our craft and still help the community," says Soto. The Water Rescue Dive Team is available for rapid response. Assisting the law enforcement is an adrenaline rush. Soto says, "I enjoy it and I think I can speak for most of us. We're all kind of adrenaline junkies. You know, we like that rush and also we get to help." Soto says he is amazed at the situations some people find themselves.
"I would just recommend switching on your common sense. If it's pouring down rain or you're getting a lot of rain within the area, obviously the river is going to rise, the waters are going to become swifter, the current will become much quicker," says Soto. "Don't go alone. Always have someone with you and a way to be contacted. Let somebody know where you are going to be." Soto and other divers on the U.S. Water Rescue Dive Team are always learning. These rescues are an opportunity to see how well they performed, and critique what they can improve.
http://billingsgazette.com/news/local/swift-water-rescue/collection_45e9b80a-269a-5bf5-a2af-8a94ca43301f.html#0
May 16, 2013 8:31 pm By Rob Rogers / Billings Gazette
Currently there is no media on this page